High-rise buildings
Westhafen Tower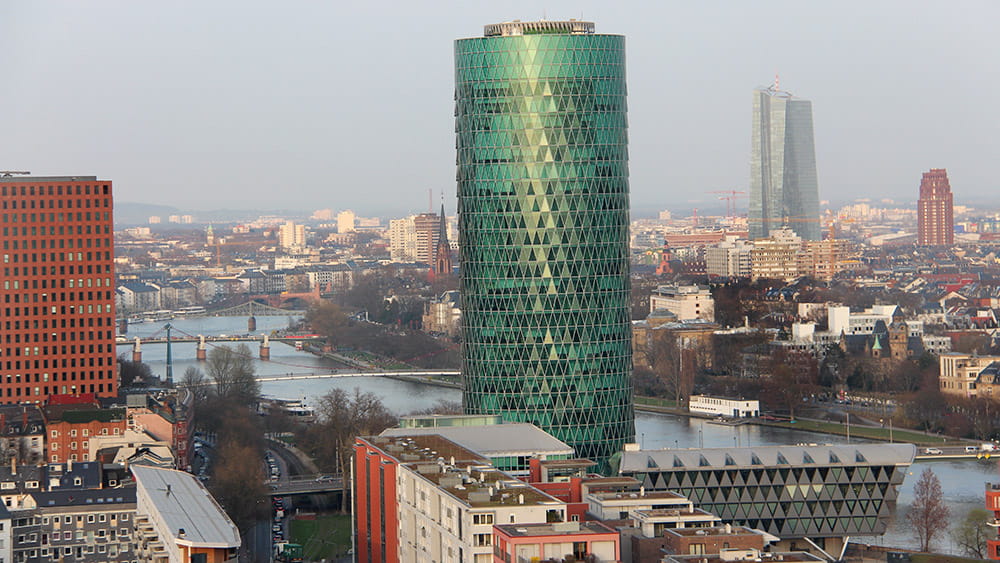 The high-rise building is part of a new quarter of the city on the site of what used to be Westhafen. Frankfurt residents have already started calling the Westhafen Tower "the ribbed glass" or the "apple wine tower", because its glass façade resembles a glass for apple wine. In fact, the 3,500 glass triangles are supposed to suggest the element water with the different light reflections they create.
The interior of the Westhafen Tower, in contrast, consists of square elements piled on top of each other, so that the interior spaces are at right angles. The remaining surfaces of the exterior façade are winter gardens, which have a recuperative affect and create a better indoor temperature. Other interesting features include full climate control, whereby all the windows can be opened, and the use of water from the Main river to cool the building.
Building owner: Westhafen Tower GmbH & Co
Architect: Schneider + Schumacher Architekten
Construction period: 2001-2003
Construction: Massive steel-reinforced concrete construction, with concrete poured on site for ceilings, supports and walls.
Gross floor area: 42,000 square metres