Theatres
Old Opera House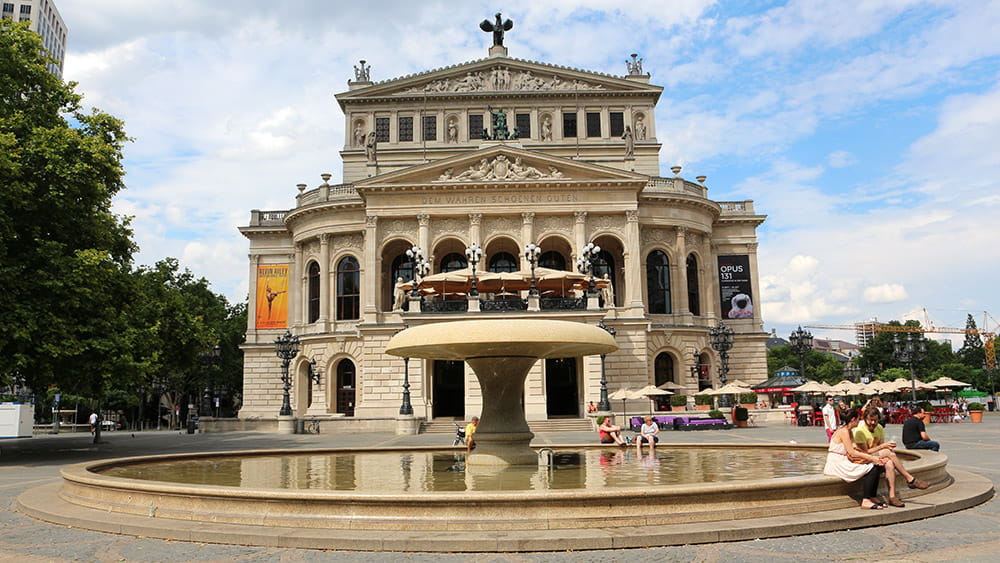 Pull down or rebuild: For years the fate of 'Germany's most beautiful ruin' was under discussion. But the people of Frankfurt provided an example of civic appreciation and on how to deal with historical heritage. Thanks to civic protests and generous donations the representative building from the Wilhelminian era, which had been bombed down to its foundation walls, was faithfully rebuilt to the original. On 28th August 1981, the inauguration of the Old Opera House was celebrated.
Since then, around 300 concerts and events a year have been attracting many visitors to its halls. The season starts with the 'Auftakt' festival for contemporary music. Throughout the year, evening for evening, there are then performances of national and international ensembles and soloists in the Great Hall (2450 seats), famed for its excellent acoustics and fitted out in mahogany. The Mozart Hall (720 seats) is available as an additional stage. Symphony and chamber concerts, song evenings, old and modern music are part of the programme. The public can make its choice from subscription series, from early baroque to avant-garde, from 'heitere Muse' to 'ensemble modern'. Family concerts, musicals, jazz, rock and pop complete the high-quality range of concerts on offer.
The Old Opera House is also known and sought-after by companies and institutions as a congress house. Every year, around 40 congresses, company anniversaries, receptions, presentations and glamorous gala evenings such as the Opera Ball are held in its representative halls and salons.