About Frankfurt
City culture on the river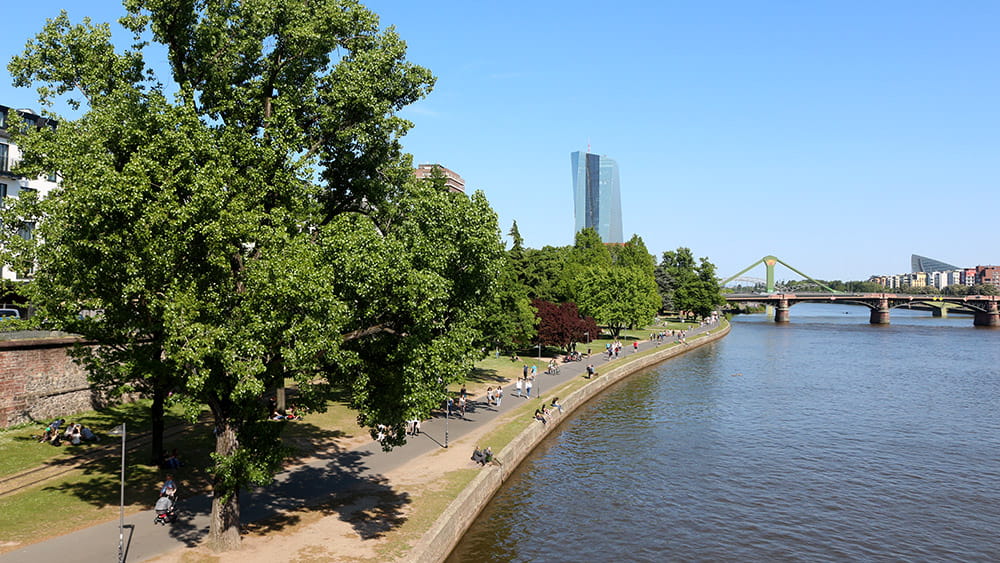 When the weather is nice, this place is swarming with people. The walkers and the roller-skaters have discovered it; and now the cyclists and skaters have too. And on Saturdays when the flea market traders set up their stalls, there is just as much going on again. 'Back to the river' has been the magic phrase in the Main city for quite a long time. With its cocktail bars and garden restaurants, the riverside has become a pleasant promenade. At the centre is the 'Nizza' or 'Nice' Garden – with palms, banana trees, stone pines, cypresses, cork trees and other southern plants, one of the most diverse southern gardens north of the Alps.
And on both sides of the Main, there is a unique cultural mile with the Museumsufer. Internationally renowned architects such as Oswald Mathias Ungers and the New Yorker Richard Meier have planned and built here. Between the Eiserner Steg and Friedensbrücke, thirteen museums, sometimes in restored bourgeois villas, sometimes in sophisticated, architectural new developments have been newly created or extended, including a film museum, an architecture museum, the Museum for Applied Art and the Jewish Museum. The new development of the Museum for Modern Art, situated in the vicinity of the Cathedral and is called the 'Piece of Cake' because of its distinctive triangular form, was the last one to be added.
The Frankfurt town planners have also put 'life on the river' on their agenda. The first step was taken with the newly developed Deutschherrnufer quarter in the east, with its riverside houses reminiscent of the Bauhaus architecture and a high-rise building with golden pinnacles at the piazza of the quarter. On the other side of the Main, an extravagant residential quarter has also been developed. A lonely crane at the so-called Weseler shipyard is reminiscent of earlier harbour activity.
The Großmarkthalle crouches low behind it, now part of the new home of the European Central Bank. From the Eastern harbour to the Western harbour: the Westhafen Tower has the appearance of a large 'Geripptes', the typical Frankfurt cider glass with the diamond pattern. The view of the luxuriously constructed pier is particularly fine in the evening from the other side, the Sachsenhäuser side. When the lights go on in the cubically constructed buildings and are reflected in the dark water like small cubes.