Festivals in Frankfurt
Rose Festival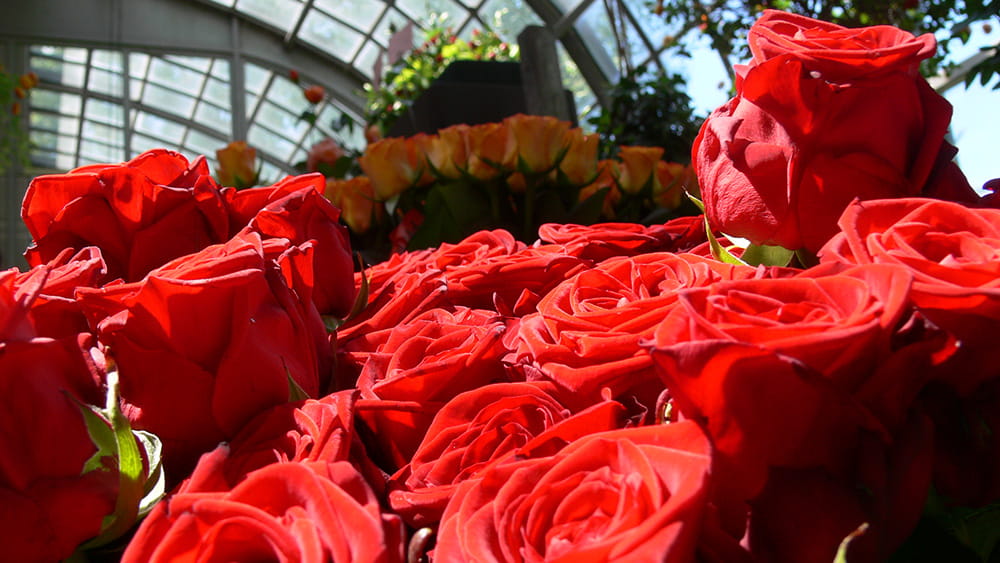 The Rose Festival celebrates the queen of flowers for a whole week every year. It takes place in Frankfurt's largest botanical garden, the Palm Garden. Since 1931, the Festival has been a special highlight in the Garden's programme. In its main flowering season in June, an entire festival is dedicated to the rose – around 12,000 cut roses in a variety of colours and sorts are presented in beautiful bouquets and arrangements accompanied by pot, climbing and high stem roses as well as old scented rose types.
A special and diverse programme is offered around the rose during the Festival. In addition to music, guided tours, lectures and information, there will be a range of specialties to buy, from rose fragrances to rose mustard and rose porcelain. Children's events are also part of the programme.
In the past, the rose exhibition week was rounded off by the Festival of Lights on Saturday with music and dancing. In the evening, thousands of people gathered and arranged tea lights in various shapes and forms on the meadows. The two-year cancellation of the Rose and Light Festival due to the pandemic gave room to rethink and redesign the event. While the Light Festival on Saturday night was much appreciated by all age groups, the crowds – that included up to 20,000 people – proved to be highly resource-consuming for the Garden. For example, plants and flowers had been damaged and large parts of the lawn needed to be replaced.
That's why the Palm Garden started fresh in 2022 with a new programme, an expanded range of musical performances and new opening hours. For more information, please visit the Palm Garden websiteInternal Link.