Festivals in Frankfurt
Frankfurt Apple Wine Festival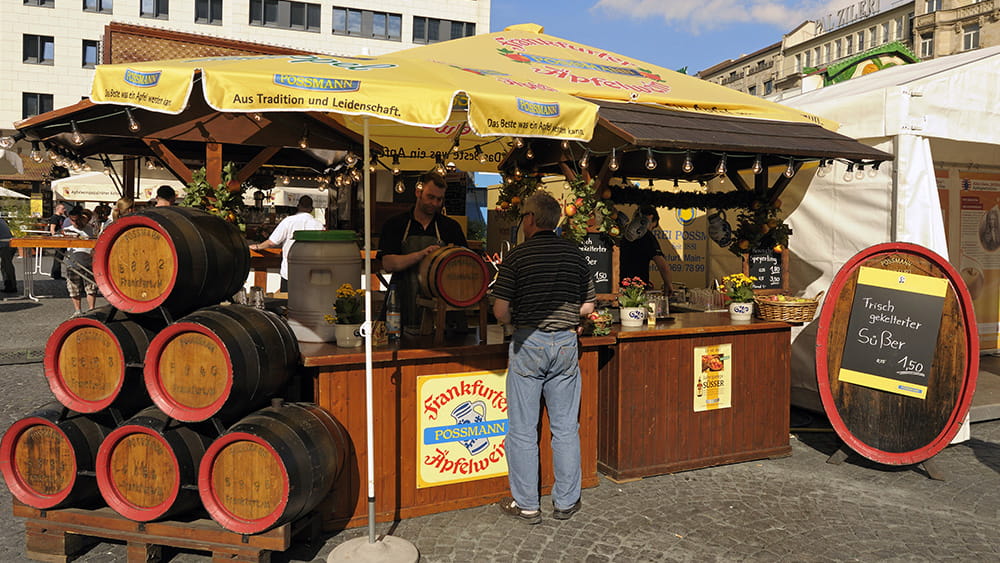 The Apple Wine Festival has become a tradition in Frankfurt. The entire festival, which takes place in the summertime on Frankfurt's Roßmarkt in the city centre, is dedicated to the Hessian national drink "Ebbelwoi" (apple wine) and the various products made from or with it.

In Hesse, "Ebbelwoi" has been a popular drink for centuries. Many people drink it pure, but it is also very popular as a spritzer either with mineral water or lemonade. Numerous wine pressers from the region offer the traditional "Ebbelwoi" made from old apple varieties along with modern mixed drinks and cocktails.

Together with the wine pressers, a varied, musical live programme is put together. Frankfurt specialities provide the right basis: tasty grilled dishes such as Handkäsbratwurst and apple-related creations such as Langosch with apple sauce or sweet tarte flambée with apple.

For more information about the programme, please visit the website of Frankfurt TourismExternal Link.