Festivals in Frankfurt
Osthafen Festival
Frankfurt's Osthafen Festival offers plenty of harbour attractions, live music, art & culture, sports and a great children's programme on land and on the water.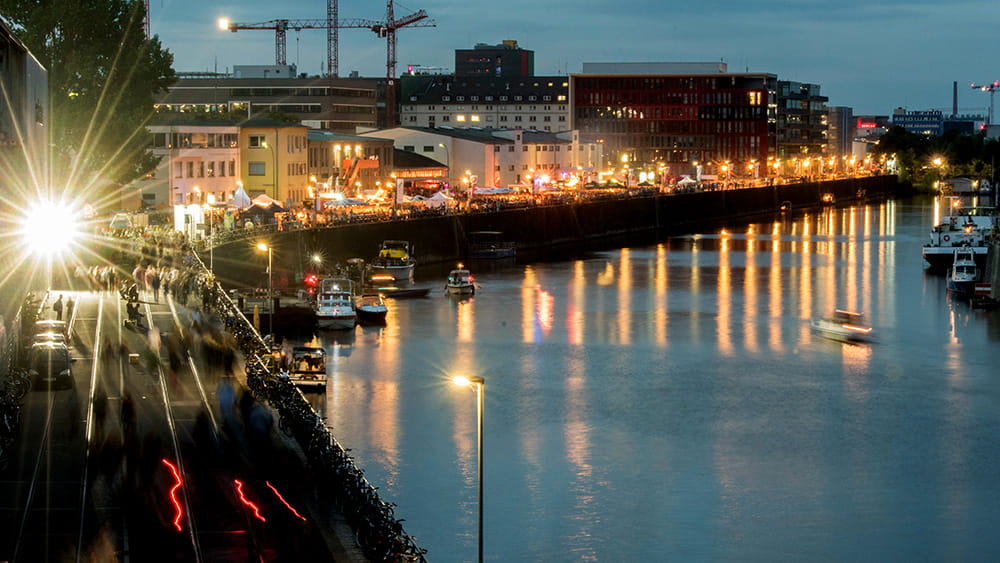 Container terminals, bridges, cranes and the skyscrapers of Frankfurt's skyline form the backdrop for the Osthafen Festival (east harbour). The Ostend, Frankfurt's dynamic district, not only offers an exciting mix of logistics, automotive, communications agencies and nightlife, but also an interesting action area right on the water. The Osthafen Festival takes place every two years between Lindleystrasse, Osthafen 1 and the entire quay wall as well as on the open space above Schwedlersee. The admission is free!
Even the journey to the harbour can be an experience if you take a seat on the historic train that runs between the Iron Bridge ("Eiserner Steg") and Osthafenplatz. On a harbour tour on the water or a guided tour on foot, visitors can discover still unknown corners of the east harbour.
The Osthafen Festival is hosted by the municipal port operator, HFM Managementgesellschaft für Hafen und Markt. Many programme highlights have been developed together with port residents and long-standing partners of HFM. The Osthafen Festival is thus a kind of district festival of the port area that invites all Frankfurt residents and interested people from the region to discover and celebrate together.
For more information, please visit the event websiteExternal Link.