Online City Tour
Iron Bridge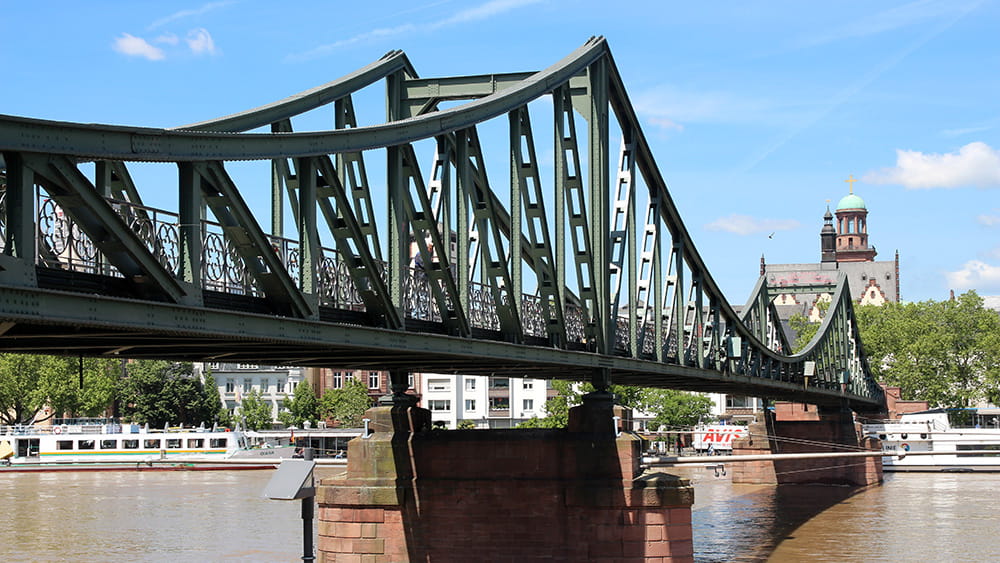 The Iron Bridge (Eiserner Steg) connects the city centre on the northern banks of the Main River with the district of Sachsenhausen on the southern banks of the Main. The neo-Gothic-style bridge, built in 1869, is already well over one hundred years old. Destroyed in the final days of World War II, the Iron Bridge (Eiserner Steg) was rebuilt in 1946. Since then it was renovated and modified several times, the last time in 1993.
Along with the Cathedral (Kaiserdom), St. Paul's Church (Paulskirche) and the Römer, the Iron Bridge (Eiserner Steg) is one of the city's most famous architectural monuments. This attractive landmark is also a popular photo spot with an excellent view of Frankfurt's impressive skyline.
Over the centuries, the Main has repeatedly overflowed its banks. The engraved water levels on the Iron Bridge show how high the water once stood in Frankfurt.
Transport connection:
U 4/5, tram line 11/12 Römer