Editor's Pick
Vaccination Centre Messe closed
Anyone who wants to be vaccinated can find the full range of vaccinations on offer at the Vaccination Centre South in Sachsenhausen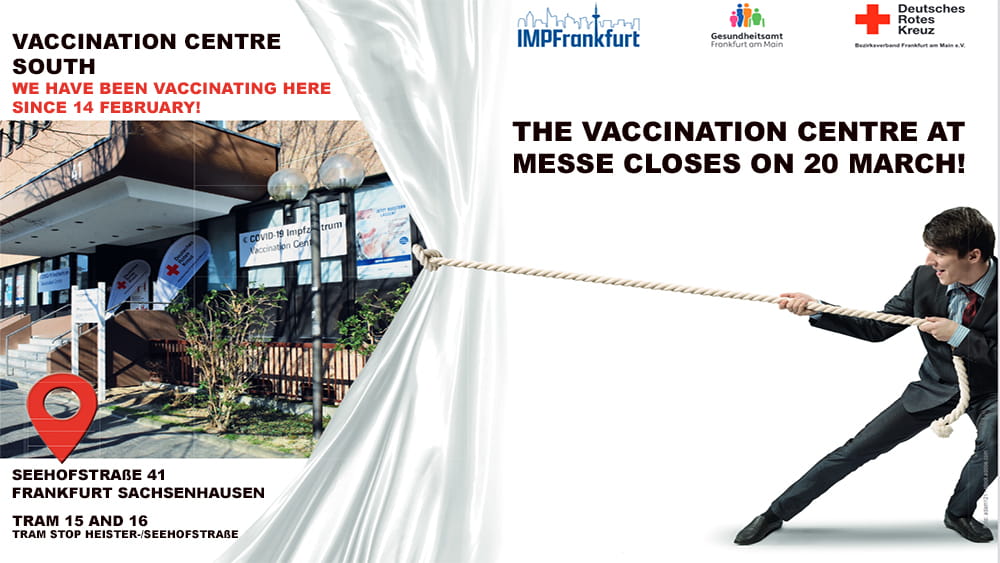 The Vaccination Centre at Messe was ready for use on 15 December 2020. It was initially located in the Festhalle and was probably Germany's most beautiful vaccination centre for a long time. After almost 500,000 vaccinations, the centre was closed in September 2021, after the operational order from the State of Hesse to run a vaccination centre in Frankfurt am Main ended.
However, the City of Frankfurt am Main decided that there should still be a vaccination centre to provide Frankfurt residents with a one-stop shop for COVID-19 vaccinations. In turn, the vaccination centre was re-opened in exhibition hall 1.2. At last count, up to 3,500 vaccinations were possible every day. At the beginning of the year, the premises and staff were doubled for this purpose. Now another change of location is coming up.
Since Monday, 21 March 2022, the Vaccination Centre South at Seehofstraße 41 in Sachsenhausen has fully replaced the Vaccinaton Centre at Messe. The building might be known to some as the former City Education Office ("Stadtschulamt"). Vaccinations have already been taking place there since 14 February 2022, with and without an appointment.
Opening hours are daily from 11:00 am to 7:00 pm and the Vaccination Centre South can be easily reached by tram lines 15 and 16, tram stop "Heister-/Seehofstraße". Enough car parking spaces are also available via the access road at Gebermühlstraße 48.
The Vaccination Centre South offers the mRNA vaccines Spikevax ® from the manufacturer Moderna and Comirnaty ® from BioNTech, which are available for persons from the age of 12. In addition, the vaccine Nuvaxovid from Novavax is available daily from 4:00 pm. Children from the age of 5 to 11 can get vaccinated, too.
You can now book appointments online, always seven days in advance: Vaccination Centres in FrankfurtInternal Link


For further information on vaccination, please visit frankfurt.de/coronaimpfungInternal Link.